Logos Memlok software from L & C Software, Inc.
Memorizing Bible verses has never been easier! Only $9.95.

The Memlok Bible Memory System Starter Kit allows you to view and study more than in your choice of Bible version (NIV, NASB, NKJV, or KJV). The starter kit is a special version of PC MemLok that is intended to introduce a new learner to the memorization techniques of PC MemLok at a reduced cost. The Starter Kit has all the features of the full PC MemLok program with only two limitations:

1.Only two topics out of the total 48 are available. They are the topics Salvation and Trust.
2.Business size cards cannot be printed.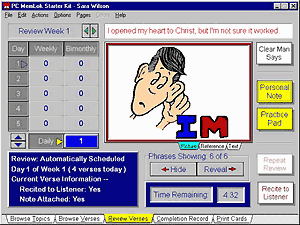 The two topics provide 24 verses or about 6 months of
memorization at the recommended rate of one verse per
week. All 700 verses and 551 pictures are available for
browsing and study in four Bible translations but only the
24 can be added to the review history of a learner. In
Browse Topics and Browse Verses the available topics
and verses are marked with a blue heart. When a verse is
selected for review the blue heart becomes red.
A picture is worth a thousand words!

"Fourth and fifth graders were tested on
what they remembered about a story (with and
without pictures). A day later, those with a picture
did 59% better, and a week later 86% better."
- Education Communication and Technology
Journal
Order Phone 877-461-8608