Abingdon Software now offered by L & C Software, Inc.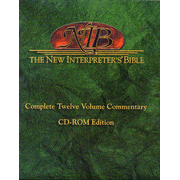 The New Interpreter's Bible on CD-Rom

The best in contemporary biblical scholarship is now available on CD-ROM, making it easily accessible to thousands of students, pastors, and church leaders who prepare sermons, research papers, and lessons using their computers. The New Interpreter's Bible® on CD-ROM brings all 12 volumes of the print edition to electronic format.
Two leading translations, the NRSV and the NIV, appear in full above the text. Underneath is a detailed critical commentary, followed by "reflections," giving faith-and-life applications. Doing research for preaching and teaching couldn't be easier. "When the original Interpreter's Bible appeared in the 1950s," writes Catholic Biblical Quarterly, "it was characterized by three things: the best American Protestant scholarship available, extreme ease of use for pastors and teachers (large print, 12 manageable volumes), and extensive reflections on the homiletic and theological ramifications of the commentator's presentation. All three are maintained in a handsome new revision with one important shift: now the commentators represent Catholics and Jews as well, women and minority scholars too; they provide a much richer perspective on the text than in any other commentary series currently available." List price $780.00.

Key Features:
| | |
| --- | --- |
| | Coverage of the entire Bible in twelve volumes. |
| | Easy-to-use format--detailed, critical Commentary and Reflections (a detailed exposition growing directly out of the Commentary). |
| | Includes the Apocryphal/Deuterocanonical books. |
| | New material specifically prepared to meet the needs of today's preachers, teachers, and students of the Bible. |
| | The biblical text is divided into coherent and natural units. |
| | The ecumenical roster of contributors includes top scholars and emerging new voices. |
| | Contributors draw upon a variety of approaches. |
| | Numerous visual aids (illustrations, maps, charts, timelines) enhance understanding and ease of use. |
| | Introductions to each biblical book cover essential historical, literary, sociocultural, and thelogical issues. |
| | The full texts and critical notes of the New International Version ® and the New Revised Standard Versions of the Bible are presented for quick reference and comparison. |
| | Uses Folio® shadow files for cut-and-paste capibilities. |
System Requirements:
| | |
| --- | --- |
| | For Windows: |
| | 486 or higher PC. |
| | Windows 3.1 or higher. |
| | 16MB RAM |
| | 12MB Free Hard Disk Space. |
| | CD-ROM Drive |
| | |
| --- | --- |
| | For MacIntosh: |
| | PowerPC processor |
| | OS 8.0 or higher (or 8.5 or higher if for the Extended disk) |
| | At least 16MB memory (32MB recommended) |
| | At least 12MB of hard drive space |
| | |
| --- | --- |
| Publisher: | Abingdon Press |
| Publication Date: | 09/2002 |
| Binding: | Other |
| Item#/ISBN: | 0687019990 |
| List Price: | $780.00 |
The New Interpreter's Study Bible
The New Interpreter's Study Bible brings the best of biblical scholarship to the service of the Church. In this new study Bible, based on The New Revised Standard Version (NRSV) of the Bible with Apocrypha, over seventy distinguished scholars have provided background and insight on the biblical text. Features of this valuable new study Bible include extensive historical and theological annotations on the biblical text; brief introductions and outlines for each biblical book; excursuses giving further background and insight regarding particular themes and passages; and twenty-four newly commissioned maps detailing the biblical world at various historical periods.
The New Interpreter's Study Bible on CD-ROM enhances this exciting new study Bible with powerful linking and search capabilities and additional classic reference resources to enhance the Bible study of serious lay persons, teachers, students, and pastors. Additional resources included are:
| | |
| --- | --- |
| | The Interpreter's Dictionary of the Bible, edited by George Buttrick(5 Volumes) |
| | Introductory and background articles from The New Interpreter's Bible Commentary series |
| | Additional Bible maps suitable for classroom handout (from Bible Teacher's |
Dr. Walter J. Harrelson, Distinguished Professor of Old Testament, Emeritus at the Vanderbilt University Divinity School, is the General Editor of The New Interpreter's Study Bible. He and the Editorial Board have gathered over seventy distinguished scholars to write the annotations.
Minimum System Requirements:
Windows:
| | |
| --- | --- |
| | 486 or higher PC |
| | Microsoft Windows 9.X or higher |
| | At least 16 MB of RAM |
| | At least 12 MB free hard disk space |
| | CD-ROM drive |
Macintosh:
| | |
| --- | --- |
| | PowerPC processor |
| | Mac OS 8.0 or higher (not OSX native) |
| | At least 16MB of RAM; 32MB recommended |
| | At least 12MB free hard drive space |
| | CD-ROM drive |