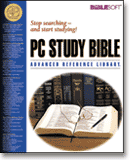 Biblesoft Bible Software Expands it Software Line and offers a free upgrade to Version 4 when it appears. Welcome to L & C Software's New Biblesoft Feature: PC Study Bible, Advanced Reference Library, Version 3 with more Bibles, Commentaries, language tools, etc than ever before.
Here is a listing of the Bibles and reference works included in the
PC Study Bible Version 3 Advanced Reference Library: SAVE $260.00 plus get a FREE UPGRADE to Version 4. Save 52%!
TEN BIBLES & CONCORDANCES
King James Version
New International Version
New King James Version
American Standard Version
New American Standard
New American Standard (updated edition)
The Living Bible
New Living Translation
Revised Standard Version
Today's English Version
Exhaustive Concordances for each Bible version

CROSS REFERENCES
Nave's Topical Bible
Treasury of Scripture Knowledge
Torrey's New Topical Index

DICTIONARIES & ENCYCLOPEDIAS
Nelson's Bible Dictionary
Fausset's Bible Dictionary
New Unger's Bible Dictionary
International Standard Bible Encyclopedia (5 vol.)
McClintock & Strong's Ency. of Biblical, Theological, and Ecclesiastical Literature
COMMENTARIES
Matthew Henry's Commentary (6 vol.)
Wycliffe Bible Commentary
Barnes' Notes on the OT & NT (14 vol.)
Adam Clarke's Commentary (6 vol.)
Jamieson, Fausset, Brown Commentary (6 vol.)
Keil & Delitzsch's OT Comm. (10 vol.)

WORD STUDY REFERENCE WORKS
Vine's Expository Dictionary of Biblical Words
Vincent's Word Studies in the New Testament (4 vol.)
Robertson's Word Pictures in the New Testament (6 vol.)
UBS Handbook Series NT Commentary

OTHER BIBLE HELPS
The Moody Atlas of Bible Lands
Bible Maps
Bible Photo Collection
History of the Christian Church, Schaff
Bible Reading Planner
Personal Notes
Biblesoft Authoring System™
Appendable Clipboard™
GREEK-HEBREW TOOLS
Interlinear Bible
UBS 4rev. Greek NT
Biblia Hebraica Stuttgartensia OT
The GRAMCORD™ Greek New Testament Alpha Morphological Database
(a parsed New Testament) with the Wheeler Syntax Notes
Thayer's New Greek- English Lexicon (unabridged)
The Brown-Driver-Briggs Hebrew and English Lexicon (abridged)
Theological Wordbook of the OT
Strong's Numbering and Greek / Hebrew Dictionary
Englishman's Greek– Hebrew Concordance
Transliterated Greek NT
Transliterated Hebrew OT

BONUS CONTENT
Spurgeon's Encyclopedia of Sermons (8 vol.)
The Fundamentals of Christianity (4 vol. by R.A. Torrey)
The Apocalypse (Comm. on Revelation by J.A. Seiss)
**Free upgrade to Version 4 for all those who buy this product before the end of May 2003 (or until our stock runs out).

*To see the Complete Reference Library and other Biblesoft programs, Click Here
NEW! Biblesoft's Pulpit Commentary
Unabridged 22 Volume set including commentary, preaching outlines and sermons for the entire Bible--over 95,000 entries. Completely interactive with other Biblesoft products. Buy it today!
Includes 14,000 sermons each from a different author. Bible Translations: King James, New King James and American Standard Version plus you get your choice of either the NIV or the NAS when you register. Exhaustive concordances, powerful word search, over 1 million cross references, Nave's Topical Bible, Treasury of Scripture Knowledge, Spurgeon's Sermons, and Bible Maps also included. Other Bible helps include: Append-able clipboard, Personal notes, Bible study reading plan, and interactive tutorials. You can build your own sermons and plug them in with the Biblesoft Authoring system. Like all our software products comes with a 30-day money back guarantee.
New! Biblesoft's New Pulpit Commentary, Version 4
Timeless, treasured and exhaustive The Pulpit Commentary has remained immensely popular over time for several reasons. Like any good commentary series, you'll find in-depth discussion of every verse in the Bible.

(KJV) King James Version bible included. Retail 199.95. You Save $51.96. Available for shipping now.
*To see the Complete Reference Library and other Biblesoft programs, Click Here