Music of Jim Cowan: Musician and Vocalist Extraordinaire
Jim is a graduate on the New England Conservatory of Music in Boston, Massachusetts and is currently the Director of Music for the conferences at the Franciscan University in Steubenville where he has led worship for over 15 years. He is a prolific liturgical song writer and performer with more than 30 CD's to his credit. He travels extensively, throughout the U.S. and Europe sharing his music ministry at parishes and concerts. He speaks at workshops and conferences around the country on the subject of leading worship. He has toured with his family and most recently with John Michael Talbot and has worked on projects with Tony Melendez, Stacy Wilson, Don Moen, and Steve Merkel.
His wonderful talent of song and heartfelt prayer are richly enhanced by his original and selected inspirational, sacred music. His music is both uplifting and inspiring. It draws you into a personal prayer of your own, touching your heart and soul.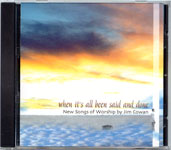 When It's All Been Said and Done-New Songs of Worship.
1. One Thing Remains 8. Holy, Holy Lord
2. For This Refuge 9. For Your Name Is Holy
3. From This Moment On 10. When It's All Been Said and Done
4. In His Holy Chambers 11. We Hold A Treasure
5. There Is A King 12. Altar Call
6. Set Your Mind On Things Above 13. Our Father
7. Beneath the Shelter of Your Wings

The River is Here
1. Is Anyone Thirsty 9. Sing to the Lord
2. We Will Dance 10. The River is Here
3. He Reigns
4. Mercy is Falling
5. Before You Now
6. Sweet Wind
7. Hide Me in the Shelter
8. My All in All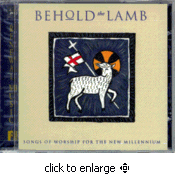 The Cup of Life by Jim Cowan and Tony Melendez
1. Comforter Divine 9. The Cup of Life Outpoured
2. Shine, Jesus, Shine 10. This is Jesus
3. We Are One Body 11. By His Blood
4. Glory to God 12. Salvation Belongs to our God
5. All Creation Worships
6. You Alone Are Holy
7. Forever Grateful
8. Take Your Place at the Table
The Father's Love
1. This Means I Love You 9. That Where I Am
2. How Deep the Father's Love 10. The Lord is My Shepherd
3. What a Friend I've Found 11. Once Again
4. My First Love 12. When It Has All Been Said and Done
5. Breath of God
6. Living Stones
7. Run to the Light
8. We Will Dance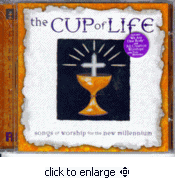 Behold the Lamb by Jim Cowan, Steve Merkel and Don Moen
1. Kyrie 9. We Will Meet You There
2. Come and Rejoice 10. Faithful to Your Call
3. Glory, Glory to the King 11. Give Thanks
4. Because We Believe 12. Gloria in Excelsis Deo
5. At the Name of Jesus
6. I Saw Heaven Open
7. Jesus We Enthrone You
8. Come to the Table
More (New!)
Blessed Be Your Name
Breathe
Enough
From This Time Forth
In Your Holy Courts
Hungry
In the Light of Your Glory
Adoration
What a Friend I've Found
Here in Your Presence
My Reward
For More Christian music, Click Here
Return to Catalog to select another artist, Click Here
Order Phone 877-461-8608