New Catholic Audios for Your Spiritual Growth and Enjoyment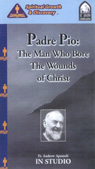 Padre Pio: The Man Who Bore the Wounds of Christ by Fr. Andrew Apostoli, C.F.R.
Recently a medical case had been submitted to the Vatican involving an unexplained miracle of an 8-year-old boy, Matteo Pino, struck by meningitis last January and rushed to a hospital. Doctors were unable to help, and when the boy lapsed into a coma, they predicted that he would die quickly. Given little hope for recovery, the young boy's family sought the heavenly intercession of Padre Pio of Pietrecina, an Italian Capuchin priest who spent most of his adult life in San Giovanni Rotondo. Twelve days later, young Matteo recovered completely. His case was investigated by the Congregation for the Causes of Saints for Padre Pio's canonization.
A Challenge to Skepticism
Padre Pio's humble life and heroic witness has deeply moved millions of persons--both while he lived and since his death in 1968. As a priest and friar, he was a man of encouragement, inspiration and comfort to all those who came to him in vast numbers. At the same time, Padre Pio challenged the disbelief and skepticism of others who came to him out of mere curiosity. Whatever the reason, no one blessed by a personal encounter with this holy man of God was ever left unmoved. Padre Pio was the first priest, but not the first religious, in recorded history to be given the gift of the stigmata--the wounds of Christ on his own body. Yet these physical and moral sufferings were only a small part of an incredible journey of faith that marked Padre Pio's more than eighty years of life on this earth.
Exciting Episodes that will Bless Your Spirit
You will be amazed as you learn what really drew so many people to seek this Franciscan's advice, prayers and blessings. Padre Pio was what was known as a "victim soul" or one who suffers for others willingly, thereby drawing closer to Christ by uniting this suffering to those of Christ. This is a very Biblical concept. Father Apostoli provides insightful interpretations to help us better understand the mysterious ways of God. From Padre Pio's humble beginnings, to the documentation of the wounds given by God, to his other mystical gifts such as reading souls and reports of his being in two places at once. Let this modern Son of St. Francis lead you to a greater love for God and a deeper desire to grow in holiness. (6 audio tapes) $26.95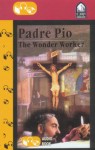 Padre Pio: The Wonder Worker, an audio book read by Dr. Frank Kelly.
Padre Pio's beatification on May 3, 1999 was attended by huge crowds, attesting to the faithful's belief in his saintly intercession. This audio book describes Padre Pio's saintly life, including his rare gifts of prophecy, healing, bi-location and reading hearts. These extraordinary charisms challenge the faithless and inspire the faithful to follow the example of his holy life of sacrifice and praise. His biography is sketched out in the first seven chapters and explored in greater depth in the next thirty chapters, which examine incidents in this great mystic's life. They include such topics as Padre Pio's encounters with the Devil, Medical Science examines his stigmata (five wounds on the hands and feet and side as were present on Christ and several other Saints, such as St. Francis of Assisi), and the Mass of Padre Pio. Price: $26.95

The Life of St. Paul and the Letters to the Thessalonians by Fr. Mitch Pacwa, S. J.
St. Paul is considered a fascinating and controversial figure among Bible scholars of all Christian denominations-the subject of much study and argument. Does Paul's teaching support Protestant doctrines like Sola Fides? What do we really know about this most prolific of New Testament authors? Here's your opportunity to discover the absorbing true story behind the great Apostle to the Gentiles with well-known Scripture scholar, Fr. Mitch Pacwa, S.J.
A Comprehensive Account
With his breathtaking knowledge of ancient history, language, archaeology, and of course, Scripture, Fr. Pacwa will expand your understanding of the life and times of the former Saul of Tarsus. Using all the available historical sources, Fr. Mitch fills in the blanks on St. Paul's life: painting a vivid picture of the land and cities he lived in, his background as a Pharisee, the probable origin of his Roman citizenship and his trade as a tentmaker. Then you'll experience new insights into his dramatic conversion to Christianity and subsequent missionary travels that ultimately led to his imprisonment and death.
Motivation and Meaning
Armed with insights from the story of Paul's life, Fr. Pacwa proceeds to thoroughly unpack Paul's two letters to the Thessalonians. With an impressive knowledge of the subject and a delightful sense of humor, Fr. Mitch will explain the motivation and meaning behind Paul's words to the Thessalonians and relate them to your life today! Father will show you how the issues that faced the new Christians of Thessalonica are still of vital importance today as we confront the false doctrines of the New Age movement, Jehovah's Witnesses, Mormons, as well as the errors of evangelical Protestantism. He also explores the doctrinal issues involved in the Parousia, or Second Coming, providing a comprehensive explanation of the various erroneous beliefs regarding the "Rapture." He explains in detail how our hope for resurrection is the hope we have from Christ's resurrection-and how that hope lies in Him and through Him. (4 audio tapes, $21.95)
Phone Today
Toll Free 877-461-8608. Invest in your spiritual future!