Catholic Video HEAVEN!
Order Toll Free: Phone 877-461-8608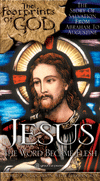 Word Became Flesh
In the newest release in the Footprints of God series, join Stephen Ray as he catches fish in the Sea of Galilee, camps along the Jordan, and explores the places Jesus lived and performed his miracles. Follow the incredible journey through the streets of Jerusalem to Calvary and the tomb, to the Resurrection and Pentecost. Gain a deeper appreciation for our Savior and the salvation he purchased for the world. All this in a fast-paced, entertaining biography, travel documentary, Bible study, apologetics course and Church history study rolled into one remarkable adventure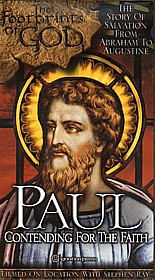 Paul: Contending for the Faith
Zealous for the God of Israel, Saul of Tarsus pursued murderous threats against the disciples of Jesus. But Saul's zeal was turned upside down when he was knocked from his "high horse" and humbled by the hand of God. In this newest release in the Footprints of God series, join the adventure as Stephen Ray, best-selling author and popular Bible teacher, takes you on the road with St. Paul through Israel, Syria, Turkey, Greece and Italy. Fall from a horse in the desert and dangle over the Damascus Wall in a basket. Cling to driftwood in the sea and stride along ancient Roman roads. You'll better understand the life, ministry, and sufferings of Paul the Apostle. Comprehensive study guide included.

The Apostle Paul and the Earliest Churches
This new documentary follows Paul's missionary journeys, enhanced with archeological, artistic, geographic, and religious facts that bring to life the story of the apostle's struggles. Accompanied by 3D animated maps, you'll follow Paul's travels to Antioch, Ephesus, Tarsus, and more, experiencing an ancient culture's witness to the birth of Christianity.
All Generations Shall Call Me Blessed
Tim Staples, Catholic convert, popular lay evangelist and radio-show host tackles one of the most difficult and most misunderstood topics of the Catholic Faith——the Blessed Virgin Mary. By examining the pages of Sacred Scripture, Staples demonstrates how the Bible is literally inundated with references to Our Lady. This former Baptist minister paints a beautiful portrait of Mary that will help you to fully appreciate her as God's mother and your mother too. Staples reaffirms and explains traditional Marian dogmas and doctrines with compelling arguements to clearly communicate the Faith.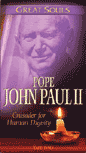 Great Souls: John Paul II
How a Polish Catholic boy went from an aspiring actor and accomplished athlete to become the first non-Italian Pope in 400 years is a dramatic story. In this program leading churchmen, friends and colleagues, historians, journalists, and his personal biographer examine the character and forces that enabled John Paul II to be acclaimed universally as one of the most important personalities in the twentieth century.
Great Souls: Mother Teresa
Filmed on location in Macedonia, France, England, and India, this hour traces the dramatic story of a young Catholic girl who felt called of God to serve the poorest people of India. Through the eyes of those who knew her and those who observed her from afar, this inspiring hour powerfully demonstrates the role that one person can have amidst the most difficult of circumstances.
Hail Holy Queen by Scott Hahn
Dr. Scott Hahn's best selling book, Hail Holy Queen comes to home video in a stunning series devoted to the Biblical and theological foundations of Our Lady's role in salvation history. Joined by co-host Mike Aquilina, Dr. Hahn analyzes the Blessed Mother's importance to all children of God as the woman who's Fiat changed the word. Exciting, persuasive, and replete with Scripture references, this series is an indispensable tool guiding one's devotion to the Mother of God, who is "our life, our sweetness, and our hope."
The Priesthood of Jesus Christ
In this 13-part series, Fr. Frederick Miller, a teacher of seminarians at St. Charles Borromeo Seminary, takes a look at the gift of the priesthood of Jesus. His "insider's perspective" shows us what the priesthood is all about: from it's beginnings to Our Lord's ministry on earth and the reflection of the Early Church Fathers. He discusses the discernment of the call.
Jewish Roots of Catholicism
Jesus fulfilled Mosaic law in the institution of the New and Eternal Covenant. Bob Fishman, a convert from Judaism and one of EWTN's most popular Journey Home guests, traces the tenets and liturgy of Judaism to their end, the holy Catholic Church. An intriguing mini-series on our heritage and indebtedness to our "elder brothers in the faith."
A Walk Through the Mass with Bishop Donald Wuerl
Bishop Donald Wuerl, author of The Teaching of Christ, takes you through the Mass step by step with descriptions of what is being done and why. 5 easy to follow sections. It is sure to inspire and promote a greater appreciation of the central element of the Faith. New Catholics, those in RCIA, and Cradle Catholics alike will enjoy this wonderful film.
Claire of Assisi
In this stirring, one-woman drama, actress/playwright Karen Lee Hodgson plays the title role in this video adaptation of her play she has performed worldwide. The founder of the Poor Clares and friend and inspiration to St. Francis comes to life in this engrossing encounter with one of Christian history's greatest women.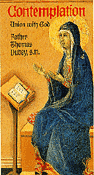 Contemplation: Union With God by Fr. Thomas DuBay
In this 13-part TV series, Fr. Thomas Dubay, author of the best selling book Fire Within, presents a powerful, life-changing message on the meaning and experience of contemplative prayer. From his vast studies and years of preaching on contemplative prayer, especially as taught by Teresa of Avila, John of the Cross and Sacred Scripture, Fr. Dubay is able to bring you to a deep understanding of what contemplation is.
Faith of Our Fathers (78 min)
This is a live performance at Dublin's Point Theater of the hymns recorded on the number one all-time best selling album in Ireland. Featuring tenor Frank Patterson, soprano Regina Nathan, the Benedictine Monks of Glenstal Abbey and the Irish Philharmonic Orchestra, this lavish event celebrates the best of Irelands cultural and religious heritage. 23 hymns.
Fulton Sheen: His Last Words
On Good Friday, 1979, a television crew visited St. Agnes Church in New York to tape a news piece. They were so enthralled by the speaker, Bishop Fulton J. Sheen, they taped his entire talk. This long lost tape has been digitally remastered and is titled His Last Words. This is the Bishop at his best in a pulpit, not a TV studio. The Bishop's wit and wisdom transcend the years.
Islam: Empire of Faith
Narrated by actor Ben Kingsley, this three-hour program tells the story of the great sweep of Islamic power and faith during its first 1,000 years——from the birth of the Prophet Muhammed to the peak of the Ottoman Empire. Historical re-enactments and Islamic art, artifacts and architecture are combined with interviews of scholars from around the world to recount the rise of early Islamic civilization and its impact on the course of world history.
Jesus Living in Mary
This is a richly detailed docu-drama of the life and times of the great French Marian apostle. Shot on location in France, this portrait of the legendary mystic, preacher and writer includes re-enactments of his life, interviews with experts on his spirituality, and the art, icons and music of his baroque age.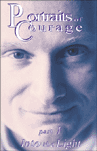 Portraits of Courage (60 min)
In this groundbreaking two-part series produced by Fr. John Harvey's organization, Courage, members of this Catholic group step from the shadows of anonymity to face the camera. With unsparing honesty, these men and women reveal their struggles with homosexuality, the amazing life-changing grace of chastity within Courage, and the truth and compassion of the Church''s timeless moral wisdom. Includes a study guide.
Icons of Evolution (51 min)
According to a growing number of scientists, many of the most famous "Icons of Evolution"——including Darwin's "Tree of Life," finches from the Galapagos Islands, and embryos that look remarkably similar——are based on outdated research and faulty logic. This is a fast-paced, fascinating journey into one of the most controversial issues in today's public arena.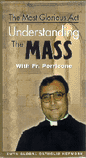 Understanding the Mass (3 video cassettes)
In this 13 part TV series, Fr. John Perricone takes viewers on a journey through history to discover the riches of the Catholic Mass. In a superb Gothic setting, he examines barriers in modern culture to an appreciation of this ritual sprung from the sacrament of sacraments. Most of all, he shows how the faithful take part in this heavenly, holy banquet, "The most glorious act, humanity's salvation."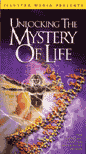 Unlocking the Mysteries of Life (65 min)

How did life originate? No question has mystified mankind more. Did life on earth arise from an undirected evolutionary process, as many scientists have believed? Or was something else at work? Here is a fascinating journey into the interior of a single living cell-an elaborate microscopic world with distinct systems that point dramatically to evidence of intelligent design.

Ten Commandments with Fr. Benedict Groeschel

.

Not rules to limit our freedom, but signposts for our great good: this is the theme of "The Ten Commandments", Fr. Benedict Groeschel's newest series. Ten divinely given laws are explored over 12 episodes, with the sensitivity and depth of insight which characterize the teachings of this beloved Franciscan friar.

The Scott Hahn Conversion Story

The conversion story of Scott Hahn is fast becoming legendary. Like other converts from Augustine to Newman, Scott Hahn is inspiring people to appreciate the Catholic Faith through his incredible conversion story. Now a theology professor at Steuben- ville University, Scott's personal story of how he became a powerful defender of the Faith will inspire viewers.

The Spirit of Assissi

With stunning photography and original medieval melodies, the town of Assisi is explored through testimonials by Pope John Paul II, Dante Alighieri, Simone Weil, J.W. Goethe, Gabriele D''Annunzio, Francis of Assisi and others. Also included are St. Clare''s reflections on her life in a convent, the Ecumenical Gathering of the world''s religious leaders in 1986, Francis' mystical Canticle of the Creatures, and more.

The Mission of the Messiah by Professor Tim Gray

In this 13-part Scripture series from EWTN, author and teacher Tim Gray, Christendom College professor, is joined by five students for a lively Bible study of the life of Jesus. The college seminar setting complements Dr. Gray's message that the Messiah, the Man born to be king, yet desires that each of us know him as Saviour, and turn to Him for healing and growth. His teachings will be welcomed by those just beginning to study the Bible, and by Scripture scholars as well. An exciting, in-depth discussion on the key passages from the Old and New Testaments regarding the mission of the Messiah.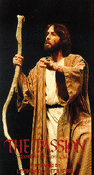 The Passion According to Luke
Catholic actor Leonardo Defilippis' one-man performance of the passion, death and Resurrection of Jesus Christ, taken directly from Scripture, draws his audience into a deep understanding of the immensity of God's love. From the entry into Jerusalem to the Resurrection, Defilippis delivers a powerful performance that speaks to the heart.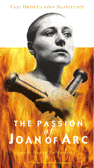 The Passion of Joan of Arc
A lost masterpiece recently found and digitally restored to pristine condition, this 1928 film by acclaimed Carl Dreyer is considered by critics as one of the greatest films ever made. French actress Reneéé Falconetti's performance as Joan is praised as "the greatest performance on film". It focuses on the saint's trial and martyrdom. Silent film with English subtitles, includes Einhorn's brilliant orchestral music "Voices of Light".
The Last Supper (60 min)
The Lord's Supper will take on deeper meaning as you absorb this program filmed and dramatized entirely at authentic locations of the Holy Land and the Middle East. It emphasizes both Christian tradition and Jewish roots. It also explores the recipes of the exotic Biblical courses served at the supper: bread, salads, herbs, lamb, fruit, etc. Includes 18-page recipe book
Click Here to See More Great Videos
Click Here to See Scott & Kimberly Hahn Video Modules
| | |
| --- | --- |
| | To ORDER videos click on the Catalog icon below. Then click on Christian videos |
| | Or phone toll free 877-461-8608 or click on the Special Orders icon below, or e-mail us at lcchristiansoftware@hotmail.com. May God bless you! |